We have not yet started anything special to do a Christmas countdown this year, though in retrospect, I could have made time to prepare for it.
It's okay, we can begin next year. But before I forget my ideas, I better write them down here.
A Christmas/Advent Countdown really depends on you. Basically, it's one way to prepare for the coming of Christmas. For Christians, that would mean the coming of Jesus. But non-Christians who celebrate Christmas, it's the coming of a lovely holiday. I feel like doing this would keep the spirit of Christmas alive for my son, especially now that everything tends to get too busy and too tiring (Manila traffic during Christmas is not so fun, for one).
You can start on the very first day of December, or you can do some sort of 12 days of Christmas, or you can start on the fourth Sunday before Christmas. How early or how late you do it depends on many factors – most of it being time.
Do you have time to make activities for a whole month, or will 12 days before Christmas work better for you? Really, it depends per family. What I can advice though, is maybe you can start planning yours even before the ber months approach. So you know ahead of time if you need to buy something, and also have time to do everything needed for your countdown!
In my post on Christmas Traditions, I mentioned doing a Christmas Countdown as one of the traditions I find beautiful. You know best what will work for your family, but hopefully, this blogpost gives you an idea of some things you can do to make Christmastime more fun and meaningful!
First, once the holidays are over and we have more time in our hands, I plan to make a Christmas Countdown tree. There are lots of ideas on Pinterest, but this one is what caught my attention: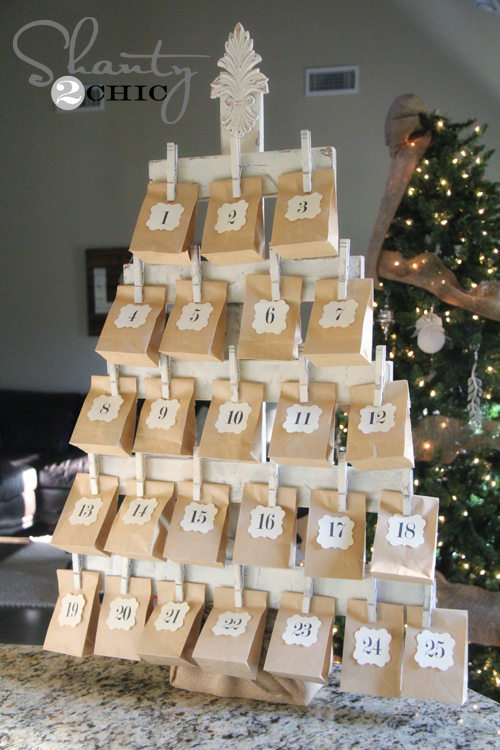 And now…the activities!
Here are my thoughts so far, and I will just add/change them as I see fit (in no particular order):
1. Put up the Christmas Tree!
2. Take out Christmas Books and arrange them (read The Story of Christmas), or open one Christmas book a day!
3. Watch a Christmas Film
4. Write down our Christmas List (with these in mind: want, need, wear, read + a service we would like to receive – a massage? a homecooked meal? etc)
5. Buy gifts or make gifts for family and friends
6. Make our own ornament, or choose (1) meaningful ornament for the year
7. Do an advent spiral walk
8. Read one story from Christmas Miracles (or any Christmas story from beautiful books like Chicken Soup For The Soul)
9. Serve each other's request on the list. Give Mama a massage. Give Papa a homemade cookie. Etc.
10. Make a Montessori-friendly shelf Christmas Edition (depends on the age and interest)
11. Drive somewhere colder for the day! Or just a trip out-of-town.
12. Start Nativity Set tradition
13. Watch an orchestra/ choir or other Christmas shows/ musicals/ plays (malls/ parks)
14. Wrap gifts
15. Watch a Light Show/ Drive around the city to watch the lights
16. Attend Simbang Gabi and have Bibingka and Puto Bumbong after (plan Christmas Meal after)
17. Watch the UP Lantern Parade
18. Make hot chocolate (some recipes HERE)
19. Do something crafty – paint gingerbread houses? make decors? etc!
20. Make the house smell like Christmas with this all-natural recipe
21. Christmas Karaoke! or Boardgames ALL DAY!
22. Christmas Game! You can find some ideas HERE
23. Visit a Christmas Village! Or make one.
24. Take Christmas Family Photos
25. Wear pajamas and read all day
There's my list for now. Since we just really follow our child, this list might change depending on what my son's really into next year. But since I've started a year ahead, I hopefully will be able to follow through!
Hope you enjoyed my list and if you have been doing this, would love to know what you do for your family, too!
*** IDEAS FOR THOSE LIVING IN MANILA (EDITED AFTER CHRISTMAS 2018)
1) Christmas Lights and Shows – Ayala Triangle would probably have the best in the Metro. I would also check Meralco and the animated Christmas Display of Araneta Center and Pinaglabanan Shrine. For a street full of lights, you can checkout Policarpio Street in Mandaluyong. It's for pedestrians only, and there are some food stalls and lots of shops, plus houses on full Christmas display. It's usually very crowded and noisy, though, so we haven't visited in the last few years. It's also worth checking out the University of the Philippines' Lantern Parade. This usually happens sometime around the second or third week of December.
2) Christmas Feels in Hotels and Malls – If you want to feel the Christmas spirit in Manila, the malls and hotels can easily give you that. For mall displays, my favorite would be Power Plant, while for the hotel, their designs change every year, but it might be worth checking out the classics: Manila Peninsula Hotel, Manila Hotel, Sofitel.
3) Unveiling of Christmas Trees – Malls like SM unveil their giant Christmas Tree (for their main malls, at least) for the year by making an event. By November and December, weekends are usually filled up with events like school choirs or orchestras having a show, and also professional performers. We attended the Christmas Tree Unveiling in Mall of Asia and it was just a fun, free show children would enjoy. So do checkout the schedule of events for November and December in the information counters.
4) Free Christmas Shows – Orchestras, Choirs, Plays, Musicals, Christmas Shows — all these are popular in the ber months, most especially in December. The easiest way to find orchestras are in malls (again, check malls' list of events in their information counters) and in hotels. For plays and musicals, you can check out the events of Ballet Manila, Cultural Center of the Philippines, Resorts World Manila, On Stage Greenbelt, Repertory Philippines, etc. Another tip: follow Manila Symphony Junior Orchestra on Instagram so you can get updated on their next shows! We were able to catch them at Salcedo Park and had a lovely time watching a free concert at the park.
5) Drive-by Ideas For The Christmas Feels – If you're just gonna drive around the city, these streets might be worth checking out: Ayala Avenue, Buendia, J.P. Rizal (Makati City Hall), Roxas Boulevard (CCP-PICC area), Gilmore Street for the parols (Christmas lanterns) and The Rainbow Tunnel at Tiendesitas. By driving around, you'll probably find carolers on the streets, too!
6) Theme Parks / Rooms – We're not big on theme parks, but it does give a Christmas-y feel. You can always head for Star City in Manila, or make little drive to Enchanted Kingdom in Sta. Rosa, Laguna, or Sky Ranch in Tagaytay. If you're around Capitol Commons in Pasig, they do have a few rooms (stalls that are unoccupied so not sure they will still do this if their stalls are all rented out) that you can checkout for free. They're like secret rooms, so there's a door and you line up, and there are different themes (lights and displays). It's not big, but it's free and the my son and his cousin enjoyed them, so it might be worth checking out for your family. I heard SM Aura has something like that, too, but there's an admission fee.
8) Out-of-town Lights and Shows – Nuvali's Magical Field of Lights and Pampanga's Lantern Festival might be worth the trip out-of-town. For San Fernando, Pampanga's Lantern Festival, a local's tip is to go there after the actual unveiling (too many people), because the lanterns are exhibited and displayed for a while, anyway. For Nuvali's Magical Field of Lights, since you're already in the South, the Gingerbread House in Cavite and the Christmas Village in Crosswinds Tagaytay might be worth checking out.