We have not yet started anything special to do a Christmas countdown this year, though in retrospect, I could have made time to prepare for it.
It's okay, we can begin next year. But before I forget my ideas, I better write them down here.
A Christmas/Advent Countdown really depends on you. Basically, it's one way to prepare for the coming of Christmas. For Christians, that would mean the coming of Jesus. But non-Christians who celebrate Christmas, it's the coming of a lovely holiday. I feel like doing this would keep the spirit of Christmas alive for my son, especially now that everything tends to get too busy and too tiring (Manila traffic during Christmas is not so fun, for one).
You can start on the very first day of December, or you can do some sort of 12 days of Christmas, or you can start on the fourth Sunday before Christmas. How early or how late you do it depends on many factors – most of it being time.
Do you have time to make activities for a whole month, or will 12 days before Christmas work better for you? Really, it depends per family. What I can advice though, is maybe you can start planning yours even before the ber months approach. So you know ahead of time if you need to buy something, and also have time to do everything needed for your countdown!
In my post on Christmas Traditions, I mentioned doing a Christmas Countdown as one of the traditions I find beautiful. You know best what will work for your family, but hopefully, this blogpost gives you an idea of some things you can do to make Christmastime more fun and meaningful!
First, once the holidays are over and we have more time in our hands, I plan to make a Christmas Countdown tree. There are lots of ideas on Pinterest, but this one is what caught my attention: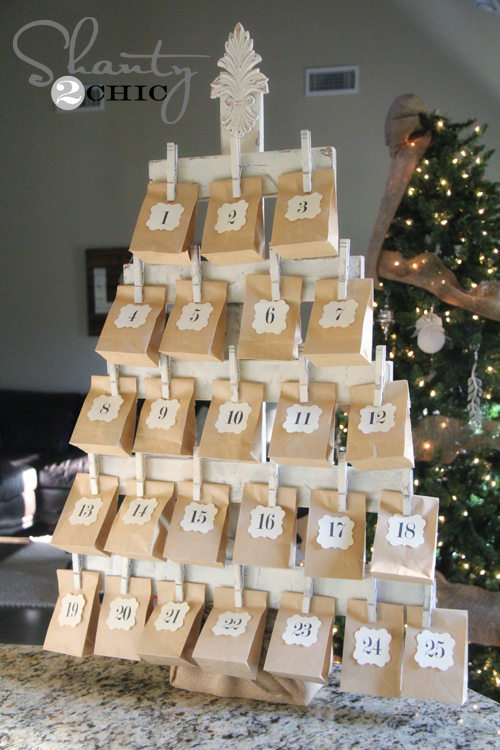 And now…the activities!
Here are my thoughts so far, and I will just add/change them as I see fit (in no particular order):
1. Put up the Christmas Tree!
2. Take out Christmas Books and arrange them (read The Story of Christmas)
3. Watch a Christmas Film
4. Write down our Christmas List (with these in mind: want, need, wear, read + a service we would like to receive – a massage? a homecooked meal? etc)
5. Go out and buy gifts for family and friends
6. Make our own ornament, or choose (1) meaningful ornament for the year
7. Bake cookies/ Christmas dessert
8. Read one story from Christmas Miracles (or any Christmas story from beautiful books like Chicken Soup For The Soul)
9. Serve each other's request on the list. Give Mama a massage. Give Pablo a homemade cookie. Etc.
10. Make a Montessori-friendly activity Christmas Edition (depends on the age and interest)
11. Drive somewhere colder for the day!
12. Start Nativity Set tradition
13. Buy matching pajama/ sleepwear
14. Wrap gifts
15. Watch a Light Show
16. Attend Simbang Gabi and have Bibingka and Puto Bumbong after
17. Plan our Christmas Meal
18. Make hot chocolate (some recipes HERE)
19. Watch a choir
20. Make the house smell like Christmas with this all-natural recipe
21. Christmas Karaoke!
22. Christmas Game! You can find some ideas HERE
23. Open new Christmas book
24. Take Christmas Family Photos
25. Wear pajamas and read all day
There's my list for now. Since we just really follow our child, this list might change depending on what my son's really into next year. But since I've started a year ahead, I hopefully will be able to follow through!
Hope you enjoyed my list and if you have been doing this, would love to know what you do for your family, too!